Post by PtcKarps on Apr 16, 2018 12:25:32 GMT -6
Intro:
Dragonite is one of the most popular character in the Pokémon franchise! Dragonite's first TCG appearance was made in the WOTC Fossil Set and later reprinted 26 times! (Bulbapedia) The second time Dragonite was reprint was in the Team Rocket set in its evil Team Rocket controlled form! In most of the early WOTC packs the holo rares came with a non-holo counterpart; however, in the WOTC Team Rocket set there are 3 kinds of Dark Dragonites you could collect due to a rare error! This guide will cover what the error is, how it occurred, the cards rarity, and how many have been graded.
What is the error and why three instead of two?
In the Team Rocket set (1st edition and unlimited set) the Holo version of Dark Dragonite is numbered 5/82 and the non-holo counterpart is number 22/82. During the sets printing, few of the Dark Dragonites that were numbered 5/82 and meant to be holo, were printed accidentally without its holo foil, making it look exactly like its' non holo counterpart.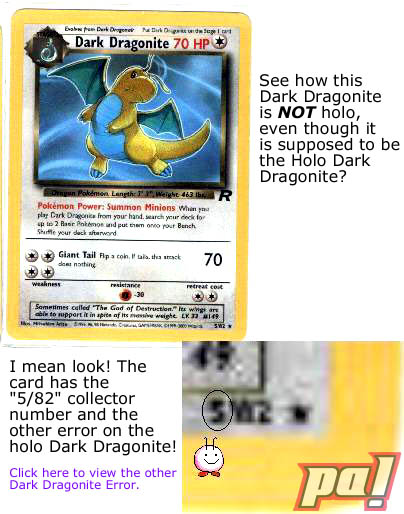 Figure 1:
Visual showing Dark Dragonite error.

How this error may have occurred?
Rusty, a fellow e4 member and the founder of TCA Gaming, provided key insight on the Dark Dragonite error when he shared his "Unlimited Team Rocket Uncut Sheet" on his YouTube channel. The uncut sheet consisted of all the uncommon Team Rocket Cards that could be found in the set. However, a Dark Dragonite is found sitting in the dead center of the sheet and the card is numbered 5/82! Dark Dragonite being a rare should not even exist on that specific sheet and let alone the 5/82 version should be specifically on the Rocket sheets that featured the holo rares! Thanks to Rusty, we know where this printing error came from and how it occurred!
Figure 2:
Team Rocket Unlimited - Uncut Sheet.
Figure 3:
Uncut Sheet featuring error Dragonite.
How Rare is this error Dragonite compared to other error cards?
The 1st edition copy of this error is lot harder to find and is ranked 3rd out of the 16 hardest error cards to find according to rockcarolinacc's article "English Error and Misprint Guide." The unlimited version's error was ranked 7th out of 16 and a speculative estimate of about 5000 copies were printed. The only two cards that sit above the 1st Edition error Dragonite is the controversial Pre-release Raichu in 1st place, and the "Pokémon The First Movie" Inverted Gold Stamp errors in 2nd place.
Sample images for your viewing and reference:
Figure 4 Above: Left Side Features Dark Dragonite Holo version. Right side features Dark Dragonite Error version which is missing the holo.


Figure 5 Above:
Shows the Unlimited Copy Same of the error and corrected version.
Top Left Corner features: Dark Dragonite Error 5/82 non holo error version. Top Right side features Dark Dragonite 5/82 Holo correct version. Bottom Left features: Dark Dragonite 22/82 which is the Non-holo version which counterpart of the holo 5/82 card in the Team Rocket Set.


PSA Population Report as of April 12th, 2018:
Dark Dragonite 5/82 No Holo Error – 1st edition
Dark Dragonite 5/82 No Holo Error – Unlimited
- Grade 10: 2*
- Grade 10: 9
- Grade 9: 12
- Grade 9: 12
- Grade 8: 2
- Grade 8: 5
-
Grade 5-7: 3
- Grade 1-7: 4
Total: 19
Total: 30
*Note: Pop report says three, but one of the three graded was the corrected holo version and accidentally mis-labelled as the " No Holo" error.
Sources:
pokegym.net/community/index.php?threads/recently-got-an-enormous-pile-of-older-cards-values.166450/
www.psacard.com/pop/non-sport-cards/2000/pokemon-rocket/61534
bulbapedia.bulbagarden.net/wiki/Dark_Dragonite_(Team_Rocket_5)
www.ebay.com/gds/Pokemon-Card-English-Error-and-Misprint-List-Guide-UPDATED-2014-/10000000143920845/g.html