Post by Quuador on Dec 6, 2020 10:11:26 GMT -6
A few days ago Tavis King, an expert in the Magic The Gathering community, posted his findings on the Prototype Blastoise. Due to that, I decided to use his videos as guide in creating this article, now that we have a better picture of its origin and finally the dot pattern prove we were waiting for.
This card has been in a lot of controversy in both the MTG and Pokémon communities. When it was first shown, the MTG community immediately believed it was real; the Pokémon community immediately believed it was fake. In this article I will go over its history as a timeline, and also include some opinions and relevant information of my own. I will also explain why the MTG and Pokémon communities had such an opposite believe regarding this card.
---
The Card
So, let's start with a picture and a brief summary of the card, so we all know what we're talking about here:
These cards are square cut; have a regular MTG back; and the front contains a Holofoil Blastoise in English, using the same artwork as the Japanese exclusive Blastoise that was available in both the Trade Please! campaign, which was later reprinted in the (also Japanese) Pokémon Song Best Collection CD. The front itself (text used; front used; artwork used; etc.) doesn't look anything like any English Pokémon TCG card however, but more on that later.
---
Timeline:
Next, let's go over the timeline:
Note by author: I never played nor collected MTG, so it's likely some information regarding the MTG releases are inaccurate. I simply googled bits of information for this article.
Fall 1993:
Magic The Gathering, MTG for short, is a card game produced and released by Wizards of the Coast. The first MTG set came in the stores on August 5th, 1993 (
source: Wikipedia
), and by October 1993 they've already sold over 10 million cards (
source
). Although Wizards of the Coast (I'll abbreviate it to WotC from hereon out) made multiple card games, MTG immediately became their number one success trading card game, and they were even reluctant to advertise it because they were afraid they couldn't keep up with the existing demand.
October 1996:
On October 15th, 1996, the first two Japanese Pokémon cards (Glossy promos Pikachu and Jigglypuff) were released as inserts in the November 1996 CoroCoro Comic volume, and five days later on October 20th, 1996 the Japanese No Rarity Base Set (better known as "1st Starter & Expansion Pack" in Japanese) was released by Nintendo, which started the Pokémon TCG we all love to this day and age.
1997:

In 1997, WotC purchased the company
TSR
, who were responsible for the Dungeons and Dragons RPG board game. After that, WotC visited Japan for a meeting with their D&D and MTG distributers. At that meeting, they've heard that MTG was no longer the #1 TCG in Japan, and Pokémon was now the #1 selling TCG instead. Hearing this information, WotC was afraid that at one point, when Pokémon would inevitably be released in English, it might become a big competitor in the western market as well.
Fall 1997:
Possibly influenced by Pokémon, and maybe also to gain new interest among their consumers, MTG started doing test prints with foil cards. They've tried doing so in the past, but never went through with it. But near the end of 1997 they came back to this, and started doing foil test prints again. One foil test print they've made towards the end of 1997 was a Horned Turtle from the Tempest set. This test print was done in both English and Japanese.
February 10th, 1998:
The Japanese Trade Please! campaign ran from February 10th to July 31st, 1998. In this campaign, participants could mail a flyer that was included in the
Let's Trade Please CD of February 10th, 1998
to
Media Factory
(the company that at the time was responsible for the Pokémon anime and CDs) along with any two Pokémon TCG cards and a return envelope. Participants could also select a course on this flyer: A, B, or C. Media Factory would then send back one of Charizard, Blastoise, or Venusaur depending on the selected course respectively, as well as a
Trade Please! promo card
(fun fact: it's one of just two Pokémon cards with a holofoil back, the other being -with six different versions-
Ancient Mew
). Here a picture of this Japanese Blastoise card, which has the same artwork as the Protostoise. Also note that it has a yellow lightning bolt as set symbol at the mid-right, which is next to the HP on the Protostoise.
1998:

Nintendo contacts WotC to ask if they wanted to become a partner, to produce and sell English Pokémon TCG cards in North America. Of course WotC gladly accepted this request, so Nintendo wouldn't be a competitor and they can work on Pokémon together instead.
June 15th, 1998:
Not too relevant in general, but on June 15th, 1998 the
Exodus
MTG set was released, which we'll talk about in the next section.
Summer 1998:
In the Summer of 1998 Wizards of the Coast continued doing test print runs to introduce holofoil cards into the MTG card game.
One of those test prints was an Exodus foil test sheet, since they already had the files of those cards being the last released MTG set, as mentioned one step above in the timeline. Below a picture of that test print to get an idea, although it's not too relevant (
source: Magic Librarrities
). Some more info about these Exodus foil cards and sheet can be found in
this March 16th, 2019 video of Tavis King
.
Next we'll discuss another uncut sheet, which was revealed in 2019 by a former WotC employee. This uncut sheet contained Traditional Chinese first
Portal
backs, and was printed by PBM Graphics, one of the printing facilities that WotC frequently used (this information can be found at the bottom of this uncut sheet).
For those unaware: when creating TCG cards, usually one company is responsible for the design and layout of the cards, which in this case was WotC; and another company is responsible for actually printing the cards, which were multiple companies spread across the world, depending on where the product would be distributed.
Here a picture of the back of that uncut sheet:
And here an additional picture of the back, which was posted in the CGC article mentioned at the
December 7th, 2020
section below:
Unlike the back of the sheet which was fully printed, the front was mostly blank and only partially printed in the lower-left part. This front contained mostly holofoil MTG test prints. The top two rows contained English Lightning Dragon, which was the first Holofoil card released in the MTG card game (more on that in a bit). These Lightning Dragon test prints had a few different varieties for the purpose of this test print. The next two rows contained Japanese Drifting Meadow cards. And the final row contains a few 'cards' with just expansion, mana, and other symbols alike. And finally one card at the bottom right, which is the Blastoise test print.
Here a picture of the front of this uncut sheet:
And here the complete front, including blank parts, that was shown in the CGC article of
December 7th, 2020
:
And here two zoomed in pictures.
Note that the Protostoise is exactly the same as the yellow-bordered pictures at the very top of this article, with the only difference being the black borders. Apart from those borders, the cards are identical.
And again an additional zoomed picture of the Protostoise from the CGC article of
December 7th, 2020
:
We know this sheet was printed after the Exodus print run we've discussed earlier, but before the Lightning Dragon came out in September 1998.
Before these test prints, WotC had never produced any foil cards, so they were extensively testing things out. You have to keep in mind thing like ink density, ink opacity, and ink adhesion. Printing on a foil layer instead of regular cardboard layer is obviously different, and the ink sticks differently to the foil layer than a regular cardboard layer, and also bleeds outward differently. The key is to use a sufficient amount of ink to show up on the card, while at the same time still let the holofoil layer shine through at the parts you want it to. These test prints were done to ensure they had the correct settings and the cards would look as good as possible on the foil layers.
September 8th, 1998:
The Pokémon cartoons started appearing on US television (
source: Wikipedia
), and some other Pokémon merchandise, Gameboy games, and toys started appearing in stores. Some news was also given about the upcoming Pokémon TCG.
September 26th, 1998:
The MTG
Urza's Saga
set was pre-released, with holofoil copies of the Lightning Dragon. The Urza's Saga set itself (released on October 12th, 1998) didn't contain any holofoil cards. Only the set after that (
Urza's Legacy
of February 15th, 1999) contained holofoil MTG cards in the set itself. The Lightning Dragon card was the first holofoil MTG card however, released as part of the prerelease of Urza's Saga near the end of September 1998.
Fall 1998:
After that WotC did more test prints for the Pokémon TCG. This includes the yellow-bordered test print Blastoise we're talking about in this article; the Galaxy Holofoil we see in the English 1st edition Base Set Pokémon cards; and the Pokémon back. It's likely the English Pokémon back wasn't even (completely) designed yet when these Protostoise test prints were being created, which is another likely reason why they have the MTG backs. They were primarily testing holofoil cards for MTG, and the Protostoise was probably shown to their Japanese Pokémon colleague-company Nintendo, to ask verification if it's what they were expecting. In the Fall of 1998, more changes to the design were done, until eventually the first Pokémon cards were released.
November 1998:

The December 1998 volume of Duelist Magazine, a magazine of WotC that mostly contains MTG releases, but also information about some of their other card games, was released in November of that year. This magazine mentioned that Pokémon booster packs would release in January 1999.
December 1998:

The Pokémon two player Demo pack was released, containing 24 Pokémon cards. This pack contained Shadowless cards (so no, not 1st edition!).
Source: a video of someone opening one of these 1998 Demo Packs.
January 1999:
A few days/weeks before the first Pokémon Base Set would release in the USA (I don't have an exact date),
Trainer Deck A
and
Trainer Deck B
decks were given to certain stores (although Trainer Deck B is definitely distributed a lot less than the Trainer Deck A - some more info about these decks can be found in
this Efour thread
). These decks were to promote the gameplay to kids, and were just like the Demo pack mentioned above never intended to be sold. We don't know if they were issues randomly, to certain partners only, or upon request. We do know however, that their distribution was very brief. The cards in these decks had red bordered backs, with either a letter A or B:
January 1st, 1999:
The Japanese
Pokémon Song Best Collection CD
was released on January 1st, 1999, which contained reprints of earlier cards. For some cards we know ways to distinguish it from earlier releases, for other we don't.
The English Shadowless Base Set yellow cheeks Pikachu in this set was for example printed on Japanese printing paper, which is slightly thinner than the printing paper used on English cards. If you shine through this CD promo Shadowless Pikachu yellow cheeks card as well as a regular English Shadowless Pikachu yellow cheeks card, you will clearly see the difference. The Pikachu from the CD is also slightly lighter in color.
Some of the other Glossy promos (Super Energy Retrieval; Computer Error; Mewtwo; and Mew) can be distinguished from their earlier Glossy releases by looking at the cross-section of the card, and the way the glossy plastic is facing (either upwards or downwards) (
source
).
The other six cards from the CD promo set (Venusaur; Charizard; Blastoise; Arcanine; Cool Porygon; and Hungry Snorlax), which are all non-Glossy, cannot be distinguished from their earlier prints as far as we know. The Blastoise in this CD promo set is therefore exactly the same as the one released for the Trade Please! campaign of February 1998, which we've mentioned earlier.
January 9th, 1999:
On January 9th, 1999, the English 1st edition Base Set was released in the USA. These 1st edition Base Set cards had thick stamps, although they later printed some additional Holofoil Rare sheets with thin stamps (more info about thick vs thin 1st edition stamps in
this article
). After the 1st edition cards ran out, they released a couple of Shadowless cards while they were busy updating the design. And then later when they finished this new design and made some text corrections, they printed unlimited ©1999 Base Set cards. People noticed the difference between the earlier Shadowless cards and these actual unlimited edition cards, so they started calling the previous print run without 1st edition stamps 'Shadowless'. This ©1999 unlimited edition print run was done six more times. Later in 2000 they had one last and eighth print run of the Base Set, containing ©1999-2000 unlimited edition cards (as well as Vulpix with the HP error corrected). This ©1999-2000 unlimited edition print run was done in a factory in the UK, although most packs still contained ©1999 Holofoil cards in them. These ©1999-2000 cards were distributed within the UK, Poland, and Australia.
July 30th, 1999:

On July 30th, 1999 the Japanese
Intro Pack
was released, containing both a Bulbasaur and Squirtle Deck. The Squirtle Deck also contained a Blastoise with the same artwork as the earlier Trade Please! / CD promo. This version can be differentiated from the previous two by the set symbol at the right-hand side, as well as its lack of rarity symbol. This card was the final release of this artwork for the Pokémon TCG, and all three were exclusively released in Japanese.
September 2016:
Pictures of the two yellow-bordered Protostoise cards were shared in the
#MTGRarities: Major Misprints, Test Prints, Oddities facebook group
(although that FB group had a different name at the time). These were shared by James (
note: I will use first names only in my article, to respect the privacy of those involved - all their names and contact information are available to the public however
), who is pretty well-known within the MTG misprinted community, and has provided a lot of cool MTG test and misprints in the past. Almost all of those MTG test prints, as well as these Protostoise cards, came from the former WotC typesetter Chel. While he was a WotC employee he of course wasn't allowed to sell any of the stuff, but when he was no longer an employee this was possible (although I assume WotC still wouldn't be too happy either way). Chel saved a lot of interesting test print stuff for MTG over the years, as well as for Pokémon which he and his girlfriend collected. This mostly included a large number of regular promotional cards, but had a hidden gem in it every once in a while, like these Protostoise cards.
James had sold cards in the MTG misprinted group on behalf of this WotC typesetter in the past, so James was the go-to person whenever he wanted to sell stuff. Apparently James received a box mostly with Pokémon promo cards and some MTG stuff, but in it were two of these Blastoise cards, which he posted in the Facebook group in September 2016. At this time, the name of the WotC typesetter wasn't know yet, since he obviously wanted to keep this to himself. (He later mentioned the name of Chel when more information about these Protostoise cards was necessary to be uncovered.) Here one additional picture that was shared alongside the two at the very top of this article:
September 27th, 2016:
Pictures of this Facebook post were shared here on the Efour forum.
Here is that thread.
As you can see in that thread, people immediately called it fake, and the thread was locked two days layer. (
I personally had only joined the Efour forum a few weeks prior to that thread, so I can't recall much from it personally, but at the time I thought it was a fake card as well.
)
Here I'm going off-topic for a bit to explain why the opinions of the MTG and Pokémon communities were world's apart for this card.
As I mentioned earlier, I never collected MTG, so sorry if I say anything that's incorrect.
Magic The Gathering:
From what I've heard here and there, in the MTG community things like print numbers of sets were usually known; test prints popped up reasonably frequently; contact with WotC employees weren't too uncommon; etc. Based on this, when a card like this came from a reliable source that had provided MTG test prints and misprints in the past, they believed it was real.
Pokémon:
For Pokémon this is the complete opposite. Print numbers are almost never known; in the almost 25 years that the Pokémon TCG currently exists only NINE sample/test/prototype cards / card sets are known to exist (I'll briefly go over them at the bottom of this article); and there isn't any WotC employee to verify Pokémon related information at all.
Because of this, I can completely understand the reactions in that Efour thread of September 2016. The Pokémon card has a different font (always a huge indication of fake cards in Pokémon); the texts are completely different than released Pokémon cards (i.e. "escape" instead of "retreat costs"; lack of "resistance" column; "level" instead of "stage" above the Evolution box; etc.); the Blastoise artwork that was used was exclusively released in Japan; the Pokémon information at the bottom was different than the Base Set Blastoise. Given the limited information at the time (just those pictures, and that they were claimed to come from a former WotC employee), I most likely would have came to the same conclusion: it's a very obvious fake similar as some of those Chinese fakes, not sure what they were even trying to accomplish with it. (
At the time I had only just joined the forum a few weeks prior, so I was a complete novice when it came to Pokémon, and although I remember seeing pictures of it, I didn't think much of it at the time.
)
Here a few quotes from that thread as summary:
Absolutely fake. Text is off, picture border is off, info is off, missing resistance column, states "escape" instead of retreat.

There is just so much wrong with this, it's not even close to possible.
Looks like they used Comic Sans for the font.
Just the fact that this artwork was never released in English says it all.
He may be a respected MTG collector, but that doesn't mean he knows a thing about Pokémon
its a clear fake for anyone even remotely familiar with Pokémon cards
You've joined a community of experts. It took one post (second from the top) to absolutely destroy the possibility of this being legitimate. If you haven't read the entire thread, I suggest you do. Here are a few things that make that card utterly impossible;

- card layout
- artwork exclusively Japanese
- art border
- font type
- lack of "resistance" column
- use of "escape" instead of retreat
- set symbol
- style of language used
- Pokemon information

Can we close this thread, it's been answered so many times already.
Obviously the people in the MTG community were disappointed that the Pokémon community reacted like this. Due to the opinions on our forum at the time, it was also not posted on the
Magic Librarities Test prints page
, nor allowed to be graded by BGS (who unlike PSA sometimes grades Pokémon test prints, like the For Position Only cards or MATCHPRINT cards) - although I doubt BGS would have graded these cards even if the Efour forum would have been more positive to be completely honest..
Again, for the MTG people reading this: you must understand that the history and knowledge of the MTG and Pokémon communities are completely different in terms of test prints, print numbers, WotC contacts, or just information available in general.
April 2018:

The owner of the two Protostoise cards gave one of the cards to one of the vendors at an MTG convention called Benjamin, to see if they can provide any more evidence.
Summer 2019:

A third Protostoise was found in a storage box of a closed down game store. This game store was frequented by WotC employees and artists in the past, since it was nearby the WotC headquarters. One of the owners of this store also modeled for a MTG artwork.
The person who found this card posted about it on the MTG Facebook group, as well as the Efour forum. (And later also provided close-up scans to Tavis King, but more on that later.)
Someone within the Pokémon community also came into contact with another WotC employee. But apart from confirming it was a real test print, no further information was given. Pretty useless in general, but I mention it because it's relevant for the next part:
A few months later the owner of the third Protostoise card got into contact with this same WotC employee, and they meet in person. At this time, the Efour thread below was already created and discussions were in full swing. This was when the pictures of the uncut sheet were posted in the Efour thread and also on Facebook, which I mentioned below in one of the quotes (see the
October 1st, 2019
section).
June 16th, 2019:
The owner of this third Protostoise card posted
another thread on the Efour forum
. (Note: the owner of the post later on deleted some of his comments in the thread including the first, so if the thread looks incomplete you're not mistaken..) This time a lot more information was known, and a lot of MTG experts were willing to stake their reputations on it being a legit print run after closely examination the card over the past few years.
Obviously there were still a lot of people within the Pokémon community that thought it was fake, which is a reasonable assumption since some of those people saw this card for the first time. But, given the better arguments than back in September 2016, it wasn't locked as fast as before. This time we eventually saw pictures of the uncut sheet. We had constructive arguments why it could be a real test print or whether it's still fake; mixed in with some people who just kept calling it fake, and the person who posted it who primarily wanted to sell it in addition to providing information, and who was getting angrier and angrier towards the people calling it fake in the Efour thread.
One thing that most of the people in that thread kept asking for were close-up images of the dot pattern of the front and back of the card, including the L-shaped red dots in the green orb of the MTG back, which unfortunately wasn't provided at the time. Here a few quotes from the thread as a summary (wall of text incoming, but I figured it was necessary - I also advice to look at the thread itself to get a better picture of what was being discussed, including all of the smaller comments - some trolling; some going off-topic; and some just reacting to others):
Do you know who else has had a look at the card to confirm authenticity & card stock/print matrix? I assume the back green circle has been checked with a loupe for the 4 dot L pattern, if that's there then there's no doubt it was WotC printed.
I've been following this on FB, and had a brief discussion on the posts in the Magic groups.

All signs are pointing to this as being real, with some big names in both the Magic and Pokémon communities being willing to stake their reputations on it. So let's not dogpile on it like last time. (This seller has also been a lot nicer and way less abrasive than the last one during discussions).

That being said, if you have loupe photos, would definitely encourage posting them.
I'm not giving the card any chance of being real without the ink pattern photos front and back. There's a lot going against this thing that doesn't make sense. From what I understand the only verification I've heard of is some people in the MTG community saying they think it's real, and that its printed with the same cardstock WOTC used. I also don't like the story of acquisition there's too much distancing from the source.

I'm willing to give it it's fair shot at being real, but without proper photos I don't care about any explanations given.
This is the Growlithe if anyone wants a comparison.
I wrote a pretty lengthy post explaining why I think there's reason it believe it could be real (or at least not to write it off immediately as fake), but I accidentally closed the tab.....
I'll just post this for now. I've placed a CD promo Blastoise on top of this card, scaled to the size of the Blastoise. If you notice, the prototype card actually has more of the artwork than the Japanese card. Also due to the fact that the card was only released in holo in Japanese, it would be very difficult to get a clean image of the background, never mind an extended version, which would be required to make a fake like this. Here's the TL;DR on some of my other points:
- release of the artwork (Feb 1998) corresponds to when WotC would probably be doing early test prints.
- holo seems to be from Urza's Legacy, which was the first MTG set with foils and also corresponds to the same time period when they would be developing the Pokémon layout
- elements of the card appear to be a hybrid of Japanese and final English version
Similar in a way to the collector zard/pre rai this is all going to come down to a bit of semantics and a bit of personal opinion and your definition of what is "real". I guess for simplicity and to avoid those rabbit holes again it is more analogous to the above linked "Fukano" magic backed card since it is a "standard" card and the main point of debate isn't an after production stamp.

So taking that, we need to drill into what you define as "real".

If by "real" you mean that there is official WOTC documentation that sanctioned this card to be manufactured and distributed, then I am sorry this is very likely "fake" and will never be proven to be real.

If by "real" you mean that someone with some affiliation to WOTC and consent from some individual at WOTC used the proper raw materials and proper equipment to make these cards then that is very plausible yet still extremely unlikely to be proven in any way as far as the affiliation/consent goes but with a loupe and such the materials can be verified.

If by "real" you mean that someone with access to the proper raw materials and proper production equipment yet potentially no permission to do so went ahead and made this themselves that again is plausible but only provable to the extent that the materials are correct. The permission/prototype/saved from the shredder/ etc. conversation will all be speculation or hearsay.

Lastly, if by "real" you mean that it is a tangible object made of matter and not a figment of our imagination or photoshop then I'm sure a quick video from OP can satisfy that it is indeed very "real".
At the end of the day petulant personal attacks don't make the card anymore fake or real. Don't worry about that noise.

The best option at this point is checking the dot matrix. The item is inherently odd, as it isn't supposed to exist, especially publicly. Naturally it is going to be questioned. The dot matrix is the best evidence.
(this is as a response to how FOR POSITIONS ONLY cards were being discussed in the past)

He opened Legendary Collection packs to reveal Expedition cards with white backs and some of the information missing.

I struggle to see how anyone could immediately take that at face value and then turn around and demand some official WotC proof for this.

Anyone waiting for official WotC confirmation should leave this thread now. You aren't going to get it.
Same as FPO, same as PreRai, same as Samples from Nintendo etc.

Something like this you just have to accept that there will never be anything "official".

Big names in Magic collecting like Tavis have confirmed their belief that it is real. Shaun Kauffman/Squeaks Game World, saying he has had a discussion with a previous WotC employee (who wont allow his name to be given for obvious reasons).

Having doubts is only smart, but being aggressive and insisting on getting proof that you cant possibly get is not.
Pulling them from multiple licensed product in the wild and multiple people is pretty convincing in terms of being at least produced by WoTC in one form or another.

Having someone's name attached to something without evidence at least provided in this thread maybe it hasn't been posted yet, is not convincing evidence. I know nothing about MTG but that matrix test seems like something very convincing, I don't care if Jesus says he thinks something is real, the top people in the hobby believed and used to say there were like 3 or 4 Illustrators total, now with sources and evidence we know it is 39.

I agree being 'aggressive' is counterproductive but I guess that is the cullers special sauce flavoring we all know and love lol
I don't think cullers is being aggressive at all. He's just taking the skeptical stance not to believe something until the evidence is presented, which is a totally rational position.

I also don't think anyone reading this is thinking it is 'real' in an official capacity. At best, it's basically a prototype with a single practical purpose rather than something that was meant for public release. The question is whether it is an early WOTC prototype or not. I would not say anything even close to definitive yet but I'm inclined to believe it so far based on the anecdotal and circumstantial evidence. WOTC would have had to do some Pokémon test prints so it's very believable that such a card would exist or has existed at some point.

One of the issues here is that people in MTG are spoiled with the transparency of WOTC. There's a lot of insight into the card production made public knowledge by WOTC and things like factory scraps, play test and other kinds of strange MTG errors out there. In Pokémon, people don't have access to a lot of the production knowledge and very little left the factory back then, and even significantly less leaves today. So when the average MTG error collector sees this card, it makes sense to them. When a Pokémon collector sees this, their immediate reaction is disbelief.
Thank you for the updates! As you can probably tell a lot of us are very passionate about the history of Pokémon we have to fight for every verifiable source we have found, of which very little can be found outside this forum which is crazy if you think about the huge giant that Pokémon is!
On previous occasions when these sort of cards come up for discussion we get little to no verifiable information it is usually just one person bringing the item forth with a nice story. But thank you for sticking with it and we are all very intrigued to see more especially close ups of that matrix. We all have a bit of ptsd especially given your thread title, those are strong claims and probably strengthens the ptsd flames a bit.
To others reading this I strongly advise you to not take the word of figureheads in the hobby blindly, even if smpratte were to say something is legit but shows no corresponding evidence does not make it so and I am sure he would agree because he has never done so

. There are many instances where this thinking has backfired, here is another example to bring the point home, several years ago all the top collectors at the time thought that one of each Snap promo was handed out to each winner. But now we know that the winner received 20 copies of their winning card.
We need to confirm ASAP that the raw materials are genuine so that we can take this conversation to its inevitable fate of a locked thread from excessive arguing whether it is "real" with respect to my prior options 2 and 3 earlier after a lot of people get heated and mad at each other. That bit we've got a head start on.
Since I don't know anything about MTG, can someone explain the dot pattern you're all talking about? I tried to google it, but came across
this thread asking if his three variations of patterns are real/fake
, so by that I still don't know if those are all authentic dot patterns or not. I also came across
this L-shape of red dots verification
to check if a MTG card is real or not. But again, I don't know anything about MTG, so I don't know if these sources I quickly googled are the Efour forum kind of sources, or the random top-10 rarest Pokémon card articles containing the Krabby error and fake pictures of the Pokémon Illustrator type of sources.. Could someone provide some pictures or links to ELI5 me how the dot patterns layouts are done for MTG cards?
As for the scans provided above, when zooming in I did notice some weird vertical lines like these: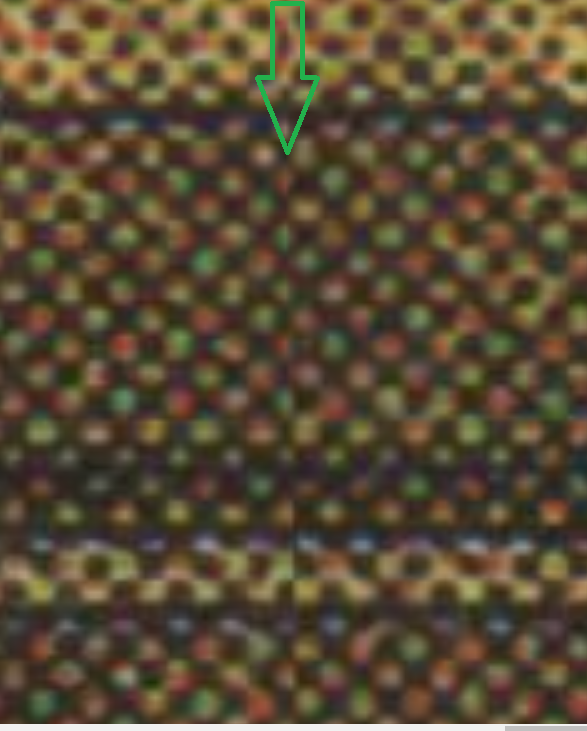 Not sure if this happens more often with MTG cards or not, or if it's an issue with the scanner used. It just struck me as odd when zooming in.
PS: For anyone interested, I've searched on that magiclibrarities website again and came across
the German Pokémon cards with MTG back
:
*POKEMON GERMAN CARDS SQUARE CUT WITH MTG BACK*

While WotC still owned Pokemon as well as MTG, during printing some of the sheets were mixed up at the NY packout facility. This mix-up resulted in MTG backed Pokemon cards square cut (with black core) from the German Base Set Unlimited Edition 1999. All were destroyed except few of them. At least 10 are known to exist:
* 1 x Arkani (Arcanine) Artist Ken Sugimori
* 1 x Fukano (Growlithe) Artist Ken Sugimori
* 2 x Hornliu (Weedle) Artist Mitsuhiro Arita
* 4 x Nidoran Artist Ken Sugimori
* 2 x Tangela Artist Mitsuhiro Arita
Arkani Pokemon (Uncommon 23/102) square cut with MTG back
Fukano Pokemon (Uncommon 28/102) square cut with MTG back
Hornliu Pokemon (Common 69/102) square cut with MTG back
Nidoran Pokemon (Common 55/102) square cut with MTG back
Tangela Pokemon (Common 66/102) square cut with MTG back
EXTERNAL LINKS
POKEMON & MTG Mixed Game Card video on YouTube
INTERNAL LINKS
Pokemon Front Misprint topic on the forum
As well as some MTG cards with Pokémon backs on an uncut sheet:
*INVASION PRECONSTRUCTED DECKS UNCUT SHEET WITH POKEMON BACK*
Uncut sheet (11 x 11) of Pokemon backed Magic cards printed by PBM Graphics, Inc. : Durham, North Carolina, U.S.A . The sheet front has two 60-card preconstructed Invasion decks and a black filler card. The Invasion theme decks are described as "A & B" on the Pokemon-backed uncut sheet, and correspond with the "Blowout" and "Dismissal" decks.
Uncut sheet of Invasion preconstructed decks with Pokemon backed Magic cards
Uncut sheet of Invasion preconstructed decks with Pokemon backed Magic cards
Uncut sheet of Invasion preconstructed decks with Pokemon backed Magic cards
Uncut sheet of Invasion preconstructed decks with Pokemon backed Magic cards. Top edge of the sheet.
Row 1: Filler - Smoldering Tar U - Ghitu Fire R - Zap C - Scorchling Lava C - Scorchling Lava C - Maniacal Rage C - Breath of Darigaaz U - Soul Burn C - Annihilate U - Agonizing Demise C
Row 2: Mourning C - Hypnotic Cloud C - Addle U - Addle U - Vicious Kavu U - Vicious Kavu U - Cinder Shade U - Shivan Zombie C - Shivan Zombie C - Halam Djinn U - Kavu Aggressor C
Row 3: Kavu Aggressor C - Hooded Kavu C - Hooded Kavu C - Thunderscape Apprentice C - Thunderscape Apprentice C - Phyrexian Delver R - Phyrexian Reaper C - Trench Wurm U - Phyrexian Slayer C - Firescreamer C - Ravenous Rats C
Row 4: Ravenous Rats C - Ravenous Rats C - Ravenous Rats C - Hate Weaver U - Urborg Volcano U - Urborg Volcano U - Mountain 344/350 L - Mountain 343/350 L - Mountain 346/350 L - Mountain 345/350 L - Mountain 344/350 L
Row 5: Mountain 343/350 L - Mountain 346/350 L - Mountain 345/350 L - Mountain 344/350 L - Mountain 343/350 L - Swamp 342/350 L - Swamp 341/350 L - Swamp 340/350 L - Swamp 339/350 L - Swamp 342/350 L - Swamp 341/350 L
Row 6: Swamp 340/350 L - Swamp 339/350 L - Swamp 342/350 L - Swamp 341/350 L - Swamp 340/350 L - Swamp 339/350 L - Drake-Skull Cameo U - Spite / Malice U - Seer's Vision U - Lobotomy U - Recoil C
Row 7: Recoil C - Recoil C - Agonizing Demise C - Cursed Flesh C - Repulse C - Probe C - Probe C - Prohibit C - Opt C - Disrupt U - Slinking Serpent U
Row 8: Stalking Assassin R - Urborg Drake U - Urborg Drake U - Vodalian Zombie C - Urborg Emissary U - Phyrexian Infiltrator R - Ravenous Rats C - Ravenous Rats C - Ravenous Rats C - Hate Weaver U - Nightscape Apprentice C
Row 9: Duskwalker C - Vodalian Serpent C - Vodalian Serpent C - Vodalian Hypnotist U - Metathran Zombie C - Dream Thrush C - Dream Thrush C - Tidal Visionary C - Faerie Squadron C - Faerie Squadron C - Sulfur Vent C
Row 10: Salt Marsh U - Salt Marsh U - Swamp 339/350 L - Swamp 342/350 L - Swamp 341/350 L - Swamp 340/350 L - Swamp 339/350 L - Swamp 342/350 L - Swamp 341/350 L - Swamp 340/350 L - Swamp 339/350 L
Row 11: Island 337/350 L - Island 336/350 L - Island 335/350 L - Island 338/350 L - Island 337/350 L - Island 336/350 L - Island 335/350 L - Island 338/350 L - Island 337/350 L - Island 336/350 L - Island 335/350 L
INTERNAL LINKS
Filler Cards
I
nvasion Theme Decks
Pokemon-backed Magic cards topic on forum
Note from author: this above was one of my comments, and I now realize that those lines are indeed due to the scanner.
If you have Urza Block cards it would be nice to get a close up of the green dot of one of those and the same from the Blastoise.

The above picture is closer to what I wanted, it shows more of the rosettes I was looking for. If Nysyr is correct in that the rosettes were set specific for MTG, I wouldn't know, having a general close up image of any Urza Block card would help for comparison.

Really just any picture as close as possible would be the best, on a personal level I kind of like where you took the image above, just above the word from. I don't know if it's a good sign or bad that the blue dots continue on the border.

Usually, this is a sign that it's fake because the color dots continue on the border. Pokémon has a different process on their border which makes this impossible. I mentioned it before, where Pokémon borders have different textures and printing process.

If you have an Urza Block card and take a close up image at its border I would like to compare it to that. I'm trying to let it slide in my mind that this is supposed to be a test print and that WOTC would be in a different process for the border of their final print of a card, but I'm not sure if that was ever done even in MTG.

Summary:
-a closer image to see the rosettes better, if possible.
-close up of the green dot
-if you have an Urza Block card, a comparison image of its border
-a comparison image of an Urza Block's rosettes pattern
-a comparison image of an Urza Block card's green dot that it's a fake. However, we're not ranking this on the final Pokémon layout so I'm letting it slide. It's cause for concern, but I won't completely discount the cards plausibility for it.

If I see problems with the rosette dots I wouldn't even give it a chance at being real.
(July 25th, 2019)
The video isn't done yet but there's the card, received

This video above is where Tavis King unboxes the card, that was sent to him for verification. After this, some of us were eagerly awaiting his findings, but the thread was long locked and partially forgotten before we got that response two days ago (
and which was the trigger for me to write this article
).
I didn't add my opinion, but since the owner is yet another person blatantly trying to hype an obscure card, here it is:

This card is one of many; obscure item from WotC that is sold, then seller regurgitates story from employee to sell for more $$$. Even if everything is 100% true, they all have vested interests. Contrast that with any major tournament promo, prize card, lottery card; these all have an objective origin, and their initial release has no bias. When you win a tournament card, it is given out for free. When you win the Art Academy, it is documented and given to you for free.

Even something like extra copies, at least with those we know they are just extras of a legitimate release. I personally won't waste any time arguing physical authenticity. The vested interest is inherent to its origin, which is why people aren't crawling over each other for the card.
Now that the in between comments are deleted, the last two pages are a bit confusing.. If I understand correctly, OP tried to sell the card before we heard the opinion of Tavis King who has this card in hand, nor the close ups of the dot pattern
cullers
requested in
this comment
?
Anyway, unlike three years ago I can see this card being a real test print/prototype (although I still have doubts before I actually see some more prove from the experts), and in that regard I think it's pretty cool. Although I'm probably in the minority in that regard from the Pokémon side. I think this card is more popular on the MTG side, because errors/test prints like this leak out more often. For Pokémon there are only nine different test print cards/sets that I know of in 20+ years time (or ten if we include this Blastoise), which isn't a lot tbh.. That's also a reason why I'm looking forward seeing Tavis' response video for this card.
(September 26th, 2019) - Post from OP
Where is the video? As much as you may think this is proof it is just an fb conversation between you and someone you claim made the card it can easily be faked, not that I am saying it is, but it could be.
What ever happened to Tavis testing this card to see if this was authentic? I remember watching the video where he got it but nothing since.
I strongly believe it was printed by someone at WotC based in the characteristics of the card. I also believe, less strongly, in the story behind it's origin. But the story seems reasonable enough to me. At some point, WotC would have needed to run a test print to create a layout so why cant it be this card?

That said, there may be a way to authenticate the printing source of the card beyond a reasonable doubt but there is no way to fully confirm the intended purpose of the card. We are trusting the anecdotal evidence of of someone with a potentially large conflict of interest (Chel). The difference in the relationship between WotC and it's employees in MTG vs Pokémon is also key in understanding why MTG collectors might be quick to trust someone like Chel but Pokémon collectors are naturally skeptical.

In the end there will not be a black and white answer that people want. Everyone has made up their mind about the card. Personally, I think it's super cool.
I'm going to basically repeat what has already been said, and what I said on Facebook after you made some pretty shitty remarks about the people on this forum:

- I believe it is real (in the sense that it originated from WotC)
- I believe it to be comparable to MTG Test Prints. Which also do not get graded as far as I'm aware.
- The MTG community will always have more interest in things like this, and even if some people in the Pokémon community are interested, they are never going to offer you what MTG collectors would.
- The fact that you keep coming back to the Pokémon community despite being told this multiple times, suggests to me simply that the MTG community won't touch it.
(September 27th, 2019) - Post from OP
I came back, because I care about having known information present, but if you guys don't, and it really seems like you guys don't, then I don't mind bowing out. That seems to be a really clear difference between the Magic & Pokémon communities. We've got a bunch of skeptical hippos in here, but there are no shortage of these types of items in the Magic Community, and legitimacy is never in question. I've had my hand in putting out a lot of unknown misprint / oddity information, and never experienced the amount of disdain and skepticism.
I have nothing into the card, I found it in a storage unit, I don't need to sell it, but I do want to make sure it's known information. I actually just got a few other Blastoises, and I might start a collection.
As an aside, James Burton posted these the other day, and I thought they looked very interesting, and it would make sense, and prove how they could print in house, in very small batches.
I love known information. I care about knowing the facts and stories behind cards way more than I care about the value on things. The spread of misinformation is one of my biggest pet peeves in the hobby.

But neither you or Benjamin ever presented in a way that you wanted the information. It was always presented as the card needed to be sold, and the information and proof were an inconvenience that you were begrudgingly trying to obtain in order to meet the primary goal of a sale.
If either of you had started out by presenting what information you had, asking for help to get more information then you would have had a much different response.
People would be way less suspicious if it wasn't being presented as being primarily financial for you.

If you are wishing to provide us with information, amazing. Get the information. Don't just promise us that videos will be made etc. and then come back without that being done. Of course that is going to get people's backs up and raise concerns as to why the video was created.

And don't go posting in Facebook groups that we are all just jealous that we've never owned cards as amazing as your Blastoise. It just makes you seem incredibly petty and childish.
Magic and Pokémon are 2 distinctly different hobbies. I don't know magic well enough but if they are fine with those types of cards then maybe it should be noted that Pokémon and magic have different values when it comes to cards being "authentic". For Pokémon especially with fake stamps authentic is equated with official. Just because someone used work materials and work printers to make it doesn't make it official. If it was ordered and signed and approved for print that's a different story. Unfortunately that would be difficult to ever prove unless you could get logs where someone approved a final print order for it or Pokémon or WOTC released a memo acknowledging it as legitimate.

Test print is a bit ambiguous. Sounds like a draft print and drafts are not final issue. I imagine Pokémon or WotC, whomever had placed the purchase order, were not paying for drafts but for final prints.

It's a neat piece of Pokémon memorabilia. But to expect PSA or Becket to authenticate that is beyond the scope of what they can do. Plus they're businesses. The return for researching it would not be worth the cost.

Just be patient. This is naturally skeptical community. In fact, it's healthy that way. This type of thing comes up every now and again and nobody comes right out of the gate supporting it. I encourage you to get as much info together as you can, organize it, then present it in a new thread. These type of items are a hard sell without community support.
Since you come from the MTG community, I can understand your view. But what you state in this sentence is indeed very true: "
That seems to be a really clear difference between the Magic & Pokémon communities.
" We as Pokémon community see fake cards and real cards with fake 1st edition stamps pretty often. We
only have nine test print cards
, of which most aren't even well-known, in
22+ years time
. We don't have anyone from the WotC or Nintendo factories who could verify numbers or prints of cards, so all our information is mostly configured of skepticism and own research as a community.
Take the FPO cards for example. When they were presented to the community, there was a lot of skepticism and disbelieve about its authenticity as well. But the community was able to gather information and even pack openings (on video) containing the cards. And that is for cards which actually resemble real Pokémon cards a lot more. Regardless, although there are some PSA-graded copies out there because they graded them for a short period of time, PSA refuses to grade these as well as loads of other test and error prints which are pretty well-known and well-documented in the community.
So maybe we as the Pokémon community are too hard to convince of authenticity, and maybe the MTG community is too easy to believe stories without facts to back them up besides some ex-WotC employees stating so. Based on the history of both TCGs, that's just the way it is. I personally am still happy you presented all this information to us, even if your initial intention was to sell it, and I'm personally interested in seeing more information about it's authenticity. But since it's been two months, and we still haven't seen that video, I can understand people here are impatient and irritated when you come back and only post a Facebook conversation. Regardless of whether it is a real conversation or not with an ex-WotC employee, we as a Pokémon community are skeptical about things being fake, and a Facebook conversion is very easy to fake. Combined with the fact there still isn't a video, and well.. you get the responses you've got thus far.
(October 1st, 2019) - Post from OP
I had the pleasure of talking with a former WotC employee for almost an hour in my card shop today, he shared lots of information with me, and it was a dream for me. We had a lot of small world moments, as we're both from Tacoma. He told me a lot about what he did for Wizards, but also how they really let him down once the Hasbro acquisition happened. He was not willing to go on record, as most Wizards employees would not. I'm feel very fortune to have been given the opportunity.
I received a surprise in the form of these images once I got home, he had a big part in creating the first English Pokémon set for Wizards. This is one of MANY (rough estimate: 50) press sheets that were printed with the Blastoise Prototype. You'll noticed this doesn't look exactly the same as the ones James and I have, but there were many variations, as these were used specifically to find things they liked / didn't like in regards to developing the print of the cards. He's unsure as to when the Yellow / Gold boarder would have been added.
His explanation as to why it looks the way it does, is that, this was part of the initial presentation Creature gave them. He mentioned sitting in a design meeting with their non-English speaking developer, and it being extremely difficult, because they had to communicate simply by pointing at their collective computer screens design software. I believe the comic sans font was an initial concept Creature had to appeal to American Children, he couldn't say.
Enjoy.
(October 1st, 2019) - Post from OP
What part did he say he played in the creation of the base set?

Also, what's his name? PM me if you don't want to put it public.
C Nitz - He was the typesetter for Pokémon. Made the way the cards look, and copy/pasted the text from files over to the card. He told me he actually developed the method for them to automatically transition the text of each card onto the graphical design of the cards, which is partially why he was very upset when he was eventually let go. He told me he made their original physical copy / past process go from 2 week long for a 300 card magic set, to only 2 hours. Based on what he told me, and what I already shared, he had a direct part in the way Pokémon cards looked from WotC.
He actually really disliked Pokémon as an IP, he started working at Wizards because he wanted to help make Magic, he thought they were each their own piece of art, and didn't really care about making cards for a children's cartoon show with weird animals. Paraphrasing there. I understand his sentiment, I unfortunately was a young teenager when it came to America, and I loved it, but the are direction back then wasn't what it eventually became, and he wanted to be an artist, and help make art.
Some extra images for those that haven't seen them yet
Btw for anyone unfamiliar with MTG, that lightning dragon was the first foil card released for MTG for the Urza's Saga prerelease. The set symbols are exodus, unglued, Urza's Saga and Urza's Legacy (the first MTG set to feature foils), these symbols on this sheet would date it probably 1997 as exodus came out in 1998 and the Lightning Dragon was released late 1998.
You can also find scans of the card here:
imgur.com/gallery/9fSLArz
I would say it's a 'real card' being on that sheet, (real as in made by WotC, it's not an official card, it will never be an official card, it will never be able to be graded, it is a test/prototype, it is a niche market that is big in MTG but doesn't really exist in Pokémon). The print matrix, foiling and black ink layering are all correct for WotC. The back green circle has the 4 red dot L that counterfeits haven't afaik been able to recreate. Make of that what you will.
At this point, the OP owner posted it on the Virbank FB group to sell, so the Efour thread went off-topic because of that and was locked on October 3rd, 2019:
(October 3, 2019)

As with all obscure card where the source is a vested interest, the "true origin" will always be unverifiable.

The pictures of it being printed by WotC were shown. No thanks to the petulant seller. The origin story will always be assumed, and includes the classic contradictory numbers from staff.

There will never be a definitive answer. At this point the thread is beating a dead horse and has no productivity. Any thread where the op is blatantly calling people assholes and jackasses would have been nuked ages ago. It was only tolerated in hopes to get some photos, which we did. If something productive like the photos surfaces, message me and I'll unlock the thread.
December 4th, 2020:
On December 4th, 2010, a couple of days ago at time of writing, we finally had a video from Tavis King regarding this card, including the close-ups we've been waiting for to confirm the dot pattern.
Some of the information above, especially about the MTG releases, also came from his videos as source.
Tavis King posted seven videos in total about this card, and I will give a short summary of each of them below:
Mail Day 7: Blastoise Test Print Part 1 Pokémon & MTG:
Summary of this video:
Box opening of three packages. One are some regular paper printouts from the WotC office; one is the second copy of the Protostoise; and one contains German test prints that came from the same WotC employee source as these Protostoise (
more info about those cards in this thread
-
I'm still not sure what to believe on these, but it was interesting to hear they have the same source as the first two Protostoise cards and a lot of other MTG test prints
).
Blastoise Test Print Part 2: Where Did They Come From? Pokémon & MTG:
Summary of this video:
Two of these Protostoise cards were first posted in September 2016 in the Misprint & Oddities MTG Facebook group. This post was deleted due to accusations at the time, including the first Efour thread mentioned above.
The owner got them through an ex WotC employee, who had provided cool MTG WotC stuff in the past. After a few years of silence, they came back in 2016 to start selling MTG oddities again.
This WotC employee was a typesetter (someone who designs the cards), and he and his girlfriend were into collecting Pokémon at the time, so he kept some cool Pokémon stuff, that he wanted to sell in 2016 after he was no longer a WotC employee. This WotC employee gave a box of stuff to 'James' to sell on the MTG Facebook group, as was done before. In that box were these two Blastoise test printed cards.
Blastoise Test Print Part 3: Concerns Pokémon & MTG:
Summary of this video:
Explanation how WotC cards were designed and printed. The layout and design of the cards is done by typesetters of WotC, and the printing is done elsewhere (depending on where it is going to be released). WotC employees therefore can't print legit cards like they are being printed at their printing facilities; and those facilities can't print anything else than the designs that WotC provides them. Both parties are necessary to print a card that will be released.
Blastoise Test Print Part 4: Other Cool Stuff From The Same Source Pokémon & MTG:
Summary of this video:
In this video Tavis goes over a few other MTG test prints, including:
- mini MTG cards that were made by WotC employees for fun (and printed at a local smaller printing facility);
- printouts on paper
- Test GodBook, a printout on paper of the pictures of the cards printed by WotC themselves. They use this for their archive for each MTG set, and sometimes also use it for stock magazine images and such
And finally Tavis goes over all kind of different test prints, of which most came from this same WotC employee that provided these Protostoise cards.
Blastoise Test Print 5: Addressing The Accusations Pokémon & MTG:
Summary of this video:
Tavis mentions the original Efour thread of September 2016, and how it was immediately discarded as a fake card. He also mentions it wasn't added to the MTG Librarities website because of that, nor accepted for grading by BGS. In this video he basically provides counter-arguments for the comments mentioned in that thread. I won't go over each of them, but some examples include:
- The messages in the Facebook conversation had a different front: some Samsung apps change the Facebook Messenger font
- No previous sales before this copy popped up: they were still looking into the legitimacy of this card, and the asking price might also have been too high
- The font is Comic Sans: not true (see 19:50 in the video above)
And Tavis also shows some different Pokémon print runs, and how the design and layout has changed over the years (he compares a Fossil set Moltres with a Fates Collide Moltres for example, and he also shows some other Pokémon cards with a different design, like a Full Art Mewtwo EX).
Blastoise Test Print Part 6: Authentication Pokémon & MTG:
Summary of this video:
This is the main event we've been waiting for. This video of more than an hour shows close-ups of the dot pattern of the Blastoise, and comparisons to other cards.
Tavis first explains how it can't be a re-backed card:
- No raw material to create such a re-backed card
- No glue residue to support this on the Protostoise, which can be seen in an example re-backed card he shows
- Re-backed cards are usually slightly smaller
- It has square corners instead of rounded ones
He then shows a scan of the side of the card so we can see the black graphite layer, and how it's the sandwich we're used to with Pokémon (and MTG) cards. He also explains the purpose of the graphite layer:
- Keeping both cardboard parts together (obviously)
- Blocking light going through the card as much as possible
- When we gently bent the card, the graphite layer causes the card to snap back into its original shape
- The color of the graphite layer isn't too important, and there have been different colors of graphite layers in MTG sets, like red, yellow, blue, etc. (it's black / dark grey on this Protostoise card)
He does a light test on the Protostoise, which doesn't let light go through like a real Pokémon card.
He shows close-ups of fake MTG cards as examples:
- One real MTG card which has been stripped of its colored front, and reprinted on with an ink jet printed - clearly fake
- One that was printed on a laser jet printed - fuzzy, colors on the black/white parts, different colors in general
- One that was printed on an off-set printing press (which is also used for real cards) - still similar as the previous, and also Rosetta pattern printing on the white MTG borders
After that Tavis gave some more information of things we already discussed above, like how a third copy has popped up and was shared on the Efour forum. And how the other former WotC employee was contacted and pictures of the uncut sheet with the black-bordered Protostoise were shared.
After Tavis King opened the card back in July 25, 2019, he took the card to the Misprint Com Columbus, a convention of high-end MTG collectors. There a lot of MTG experts looked at the card up close; compared it to other MTG released cards; compared it to some Pokémon cards; compared it to MTG test prints and the miniature cards the WotC employees made for fun; etc.
Their conclusion: it was a real test print.
Tavis then explains about the uncut sheet, which I mentioned above at the
Summer 1998
section.
From 30:47 onward, Tavis shows a close-up of the Blastoise front and back so we can (finally) clearly see the Rosetta pattern. He also shows comparisons to a real MTG back so we can verify the L-shaped red dots in the green orb. And he also shows some comparisons to the other orbs, and some of the letters at the back.
Here some screenshots from the video:
Ignore the color shade differences. Not only is this normal for different print runs (there are a lot of of different shades of Base Set cards), but it's also because one was a saved scan and the other a live scan.

The important part: the dot and Rosetta patterns match, and we can see the four red dots in the L-shape on the white section of the green orb, which is present on all real MTG card backs.
After that Tavis compares it to some other cards, like the card WotC printed themselves on a laser printer (so the Protostoise is indeed a test print, and not something WotC employees made for fun); a fake MTG card (so the Protostoise is a real test print); etc.
He also compares it to the Japanese CD promo Blastoise (picture from the internet instead of scan made by himself), as well as a regular (English ©1999 unlimited edition) Blastoise Holofoil Rare card.
And finally a comparison of all three Protostoise cards with one another.
Blastoise Test Print Part 7: The Story
Summary of this video:
In this video Tavis gives a summary himself, rather similar as this timeline in this article.
At the very end he also mentions he plans on making more videos regarding printing numbers of this Protostoise card, as well as an in-depth look at the information of the uncut sheet that contained the black-bordered Protostoise.
Update: December 7th, 2020:

Just yet CGC posted
an article
about these Blastoise test prints themselves, and also announced that they've graded four of these cards, including the three mentioned above. Since their article contains some additional information, I've edited my article were applicable with pictures from their article, and will also add some information here.
Let me start with a picture of all four of the CGC-graded Protostoise cards:
The first two are the ones that were first shown on the MTG Misprint Facebook group by James in
September 2016
. The third is the copy found in the storage unit of the old game store, and was shared in
July 2019
.
And the fourth is from a later test print, owned by a former WotC employee since it has been printed. This card doesn't have a back at all, and features the Galaxy Holofoil we're used to for actually released Base Set Holofoil Rares. This card was used in a single interview to show what English Pokémon cards could look like, although documentation of that interview has been lost over time. Apparently another similar example was used for international use, but its current whereabouts are unknown.
CGC also provided additional scans, pictures, and experiments, which I will share here as well:
Scans of the sides of the card, so we can see the graphite inner layers. The top three from left to right: the first two Protostoise from September 2016; and the third from July 2019. The bottom three from left to right: the fourth with Galaxy holofoil mentioned above; the one from the uncut sheet; and the picture shows a regular MTG card from that era as comparison.
CGC also provided close-up pictures of the Rosetta pattern of the entire back, and a close-up of the green plus yellow orbs, but since those are already covered above I won't add them here. They can be found in
the article
.
The fourth Protostoise with Galaxy holofoil and white back has also been compared with a released English Base Set Holofoil Rare. Here a side-by-side of this Galaxy holofoil Protostoise on the left and a released Base Set Magneton on the right:
In addition to that, CGC uses the latest technology for additional verifications:
Compare Spot-Fluorescent lighting. (quote) "

This type of imaging uses different wavelengths of high intensity light to show how the inks used react to the light source on the infrared spectrum. Different inks will, of course, not react in the same way as they are made up of different elements. However, in this case, all of the cards look essentially the same on the infrared spectrum. Note how HP100 and the cannon are both lit up on all of the cards, and the background gradient responds similarly as well. The only minor difference is Card D

(refering to the Galaxy holofoil test print)

, which shows a slightly darker art box. This makes perfect sense, however, as it is the only example produced using a different foil. All of this is strong evidence that the inks used are the same across every card. Nevertheless, CGC Trading Cards took the examination a step further and looked at the card backs once again, but this time under UV light. While there is some minor variation in the hues on the back, likely due to different positioning relative to the UV light source, all of the elements still react with similar effect under UV light. This demonstrates once again that the inks used are the same.

"



X-ray fluorescence (XRF) scanner. (quote) "XRF uses X-rays to non-destructively excite the atoms of a sample and then measure the secondary X-rays omitted by the sample. This allows for the elemental composition of the sample to be quantified. The XRF scanner showed that the same elements were utilized in the inks of all five cards. Based on the graph above, the blue ink appears to be made up primarily of Titanium (Ti), Iron (Fe), Copper (Cu) and Zinc (Zn). There are some slight differences amongst the cards, but all are within tolerance and there is clearly a pattern. If any of the inks were different, the line would follow a completely different path."


Thanks to CGC's research, we now have additional prove these are indeed test prints, as we've concluded yesterday when I wrote this article based on Tavis King's videos. I will also quote the conclusion CGC made in their article:



In conclusion

After a thorough examination of the five cards utilizing all methods of resources available to CGC Trading Cards, including expert graders, respected consultants, microscopic inspection, imaging with specialized machines and lighting and XRF scanning of the chemical makeup of the inks, the answer was obvious. All five of the cards — the two discovered by James via Chel, the one found by Zechariah, the Commissioned Presentation piece and Chris's example still on the sheet — were all printed using the same printing process with the same plates and the same inks.

Four of those five were also printed on genuine Magic stock complete with a core in the paper. Besides the fact that multiple high-level former WotC employees have all stated that these are genuine test prints, our analysis proves beyond a shadow of a doubt that they are legitimate.

Add in those primary sources, and it is even clearer that these cards are among the very first English Pokémon cards ever printed. CGC Trading Cards is honored to have authenticated and graded them.

CGC Trading Cards wishes to thank Tavis King and Chris for their time and expertise in assisting with the certification of these cards.
---
As I mentioned earlier, I will also briefly go over ALL nine Pokémon test prints that are known to exist at one point in time (which is now ten, with the addition of this Protostoise card).
(Note: the list below is in no particular order.)

1. English E3 Expo of May 2001. Pictures of a
Pichu
and
Dratini
card with unique artwork are known, but it's unknown whether any made it into public hands or all were destroyed after the events. The Pichu has the word SAMPLE in red at the right-hand side in the artwork.
2. English E3 Expo of May 2002.
Four card booster packs
were given to visitors, containing the
58/165 Pichu, 112/165 Hoppip, a Manhole card, and a Kirby card
. These cards are also in English and have a new Japanese back, and don't have the world Sample mentioned anywhere.
3. The 58/165 Pichu, 112/165 Hoppip, and Manhole card were also available as so-called 'Manhole promos'. I'm not sure how and when these were distributed, but I've heard they were given at kiosks of game stores to demonstrate the new e-Reader devices. These have the English front, as well as English back, and there are two different versions: one set of three which are glossy (like the Japanese Glossy promos from vending machines or CoroCoro magazines) just on the front; and one set of three which are glossy at both the front AND the back. Both versions also have a pretty large hole at the top.
Here a picture of all three of these cards from my personal collection.

4. Ten English Sample set cards were given at the New York Press Conference of August 2002. These cards were created by MEDIAFACTORY in Japan instead of Wizards of the Coast, even though they are English as well. The ten cards in this set are: 002/093 Hoppip; 004/093 Koffing; 016/093 Pikachu (
this one I own myself, so here a scan
); 019/093 Gastly; 048/093 Chansey; 074/093 Rapidash; and 083/093 Pichu. These also have the new Japanese back, and all contain the world SAMPLE in black at the front. The e-reader codes also contain an "M"-prefix instead of "B"-prefix. It is not known how many copies were leaked to the public, but this is probably the most well-known Sample set for the Pokémon TCG.
5. Three Japanese cards, Pikachu, Pichu, and Eevee, were shown at the Press Conference in Tokyo, on March 7, 2001. An unknown amount were leaked to the public. These test prints have two different e-Reader borders. Here a picture of all three of them:
Pikachu
;
Pichu
;
Eevee
. These pictures came from an auction of 2016 on Yahoo Japan (the domestic Japanese eBay).
6. In August 2001 at the Nintendo Space World even in Chiba, new Sample cards were shown. These cards again had the word SAMPLE on them, and they also contained a hole. Just like the ones mentioned at #1, it is unknown if they were all destroyed or any have survived. The ones for which (vague) pictures are available are:
Caterpie
;
Oddish
;
Wartortle
;
Psyduck
;
Pikachu
(here
a better picture
);
Pichu
;
Abra
;
Spearow
; a second
Spearow
;
Clefairy
; and
Dratini
(the Dratini has the same artwork as the English Dratini shown at #1).
7. In that same auction of 2016 mentioned at #5, some other Japanese Sample cards were sold. These came from various Japanese sets, like Team Rocket; Neo Genesis; Jungle; etc.
Here a picture of all those Sample cards from the auction.
As you can see, they have a double border with e-reader dot-codes, and also contain a number on the top of the artworks.
8. English MATCHPRINT cards. These English cards are square cut, and have a white back with the words "DIGITAL HALFTONE - IMATION MATCHPRINT - COMMERCIAL BASE" diagonally across it.
Here is a video of TCA Gaming, where he shows all the Matchprint cards
that were leaked from the WotC factory, which he owned at one point. In this video he explains how many copies exist of each, which is just two copies from most cards, and four copies for some of the Trainer and Energy cards near the end. These cards were used for testing colors.
I personally own one of the two existing Pikachu cards, so here again a scan of it.
9. There are a couple of cards with the words "FOR POSITION ONLY" on top of them.
Here a complete guide for these.
These test prints include an 33/165
Alakazam
; 34/165
Ampharos
; 35/165
Arbok
; 36/165
Blastoise
; 39/165
Charizard
; 41/165
Clefable
; 44/165
Dugtrio
; and a very rare
Manhole card with that same FOR POSITION ONLY stamp
. They also have Medium in the bottom-left corners, and on the Charizard the "HP" is missing after the "100". They were found in Legendary Collection booster packs.
Some additional source about these Sample cards:
-
Sample Sets page on Bulbapedia
-
Picture Dump thread I created on the Efour - Sample section


---
And there you have it. We now finally have close-up pictures of this Protostoise and comparisons to real MTG cards. Based on this evidence, I can only come to the same conclusions as the MTG experts: it's a real test print, made by WotC prior to the release of the English Pokémon TCG.

It's unfortunate it took so many years before we finally have this full picture with all the information above (especially the close-up pictures), but it was interesting to gain knowledge about this card over time.

Disclaimer: I don't own this card, nor would I want to own it personally given its advertisement prices. I'm just someone who loves to learn new information about the Pokémon TCG I love, and am a fan of unofficial and Sample cards like these, and the history behind it. I also don't make any claims about what something like this is worth, that's something for the sellers and buyers to discuss for themselves and is irrelevant for the purpose of this article. I'm simply sharing information which primarily has been accumulated by the MTG experts over the years, so almost all credit of this article goes to them, and Tavis King with his latest videos especially.
Greetz,
Quuador (Kevin)