Post by Quuador on Oct 22, 2016 10:21:35 GMT -6
The 1st Edition symbol
The shadowless borders around its artwork
The red cheeks in the artwork
When the first few cards of the Base Set were printed they still had Shadowless borders, unlike all the other WotC sets, or the later releases of the Base Set. In addition, the Base Set Pikachu was first printed with Red Cheeks, but WotC later switched to Yellow Cheeks instead. This change is by a lot of people mentioned as a misprint, and therefore this Red Cheeks Base Set Pikachu is considered to be the most well-known and easy to find misprint in the Pokémon TCG. Officially however, it isn't a misprint. Although Mitsuhiro Arita's original artwork (as can be seen on the earlier Japanese print) was with Yellow Cheeks due to the lightning bolts in the artwork, WotC employees thought the cheeks were supposed to be red since it's Pikachu, so they changed it without Mitsuhiro Arita's permission. They later on corrected it back to yellow cheeks. (Source: From a friend who got in contact with Mitsuhiro Arita himself in person at events, as well as on Facebook.) Neither of them are misprints, but the Red Cheeks aren't Mitsuhiro Arita's original artwork.
English Shadowless non-1st edition Red Cheeks:
Same as the previous, except this one is lacking the 1st edition symbol. Usually we call the lack of 1st edition symbol an unlimited edition print, but let's call this non-1st edition instead, due to the fact the Shadowless cards only had one print run, instead of an 'unlimited' amount.
English Shadowless 1st edition 3D Yellow Cheeks:
This one is similar to the English Shadowless 1st edition Red Cheeks, except with the intended Yellow Cheeks instead of the misprinted Red Cheeks.
English Shadowless non-1st edition:
The same as the regular English Base Pikachu we've indicated as 'template', except for the Shadowless borders instead of borders with shadows around its artwork.
English Shadowless non-1st edition Yellow Cheeks from the Japanese CD Promo set:
As you may have noted, this one looks exactly the same as the previous card mentioned. In fact, these two cards are very hard to distinguish from one another.
This English card was released in a Japanese CD Promo set along with some other Japanese Cards. Because of that, it was printed on Japanese Pokémon Card paper/cardboard, which is ever so slightly thinner than the paper/cardboard used for English cards. If you shine through both of them with a flashlight, the Japanese CD Promo will let more light come through than the English printed one. In addition, the Japanese CD Promo is overall lighter in color.
The best way to ensure you bought the Japanese CD Promo card however, is to get it in it's original seal. But in doubt the 'flashlight test' is a pretty good indication of which is which (if you have both of them to compare).
English (Australian) PokéTour1999 stamped:
This card is the same as the regular English Pikachu, but has a
PokéTour 1999
stamp in the top right corner of it's artwork. These cards were included in 'Tour Packs' distributed at locations visited by the PokéTour members in Australia in September and October of 1999.
English Red Cheeks E3 stamped:
The E3 Pikachu cards were given away at the E3 (Electronic Entertainment Expo) events in Los Angeles on May 1999. This card is considered to be the first American promo card. This is the rare Red Cheeks variant, of which the productions were quickly stopped to replace it with the Yellow Cheeks variant (shown below). Current prices (at time of writing) of the Red Cheeks and Yellow Cheeks E3 cards are approximately 190-260 and 5-10 USD respectively.
English Yellow Cheeks E3 stamped:

Korean Pikachu World Collection 2000 set:
In 2000 the first Pikachu World Collection set was released. This set consists of nine non-Holo Pikachu cards, each with a different artwork and in a different language. All nine of them have a Pikachu Tail stamp at the left, where normally the 1st edition symbol would be.
The nine cards that were featured in this set are:
English _____'s Pikachu ('Birthday' Pikachu - promo nr. 24)
German Flying Pikachu (promo nr. 25)
Portuguese 'Ivy' Pikachu (promo nr. 1)
Spanish 'SNAP' Pikachu (promo nr. 26)
Chinese Jungle Pikachu (Jungle set 60/64)
Dutch 'WB Kids' Promo Pikachu (promo nr. 4)
Italian 'Bumblebee' Pikachu (promo nr. 27)
French Surfing Pikachu (promo nr. 28)
Korean Base Set Pikachu (Base set 58/102)
English Thin 1st edition stamp Yellow Cheeks:
As mentioned before at the Grey 1st edition stamp entry, the printer is sometimes not printing firmly enough, causing the Grey stamp misprint. The opposite is also true however, where it is printing more firmly causing the Thin 1st edition stamp which became the standard in later WotC releases.
In fact, if you compare the English 1st edition symbols with the 1st edition symbols of all the other languages mentioned above, you will see a small difference. Here are the English 1st edition and Dutch 1st edition symbols (ignore the difference in "edition" and "editie"):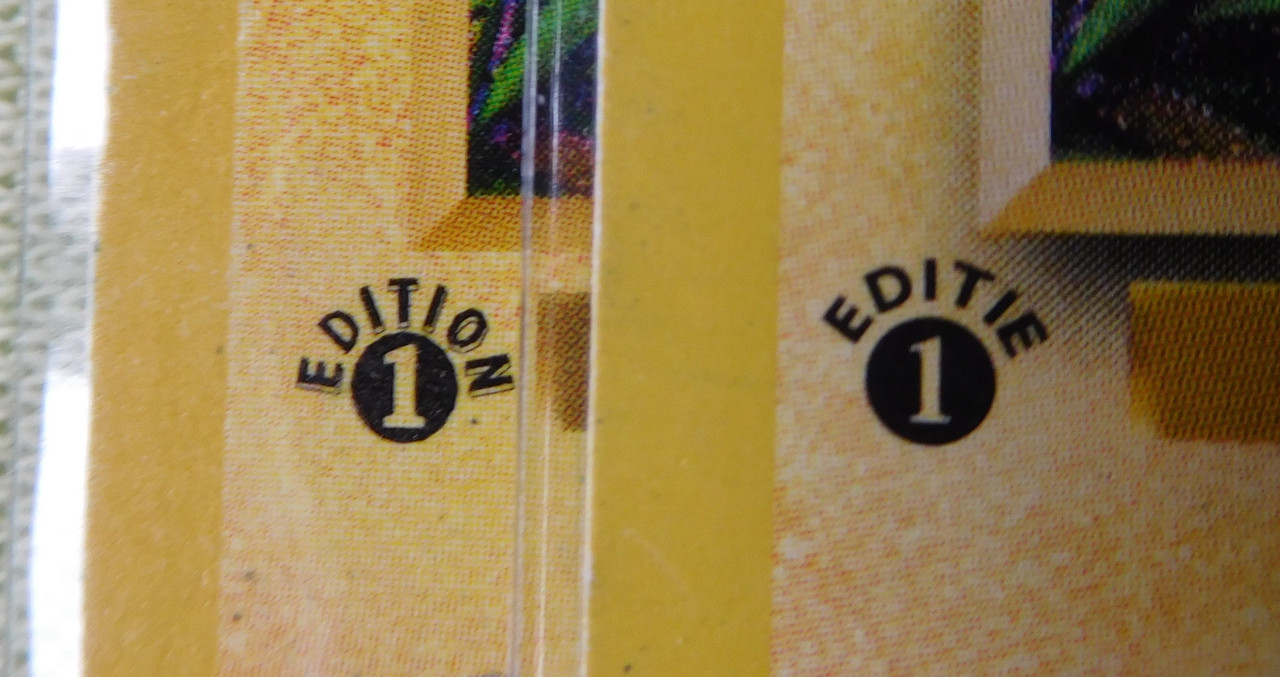 If we look at the "1" in the 1st edition symbol, we can see that the English one (at the back) is wider than the Dutch one (at the front). On very rare occasions, this "Thin" 1st edition printing occurs on English non-holo cards. For Holo Rares it is much easier to find both versions and they aren't even considered as misprints, but for non-holo cards it is a very rare 'misprint'. I personally have only seen the English Thin print Base Pikachu twice (one is this Yellow Cheeks thin 3D stamp in the picture below), and I've only seen three other Commons/Uncommons with this Thin print difference.
These Thin stamp non-Holos aren't as thin as the Thin Holo Rares, but still thinner than a regular Thick stamp. Here a comparison picture of all three, to see that this Thin stamp Yellow Cheeks Pikachu above is right between the Thin stamp of the Holofoil Rare and Thick stamp:

English Thin 1st edition stamp Red Cheeks:
Here again a comparison picture with an actual Thin stamp Holo Rare:

English Grey 1st edition stamp Red Cheeks:
A Red Cheeks variant also exists for the Grey 1st edition stamp mentioned above.
E4 member
King Pokémon
has one in his collection,
and will provide pictures for this article when he has found it
.
Square Cut misprint:
Source: Image from Justin's collection posted on
his website
(he's also active as
justinator
here on the E4 Fourum)
Source: French Square Cut Zap! Deck from the collection of
linkdu83
.
Square Cut misprints aren't extremely uncommon, but they are when you try to find them on a particular card. I personally have seen three Square Cut Base Pikachu Cards (including the two above) so far.
Other cut/printing/ink misprints:
We've probably all seen them: cards that are slightly or completely miscut; crimped at either the top or bottom due to incorrect pack sealing; cards with Squared corners like the Square Cut mentioned above; or cards with ink drops or ink completely wiped out over parts of the card.
I don't think anyone considers these as different versions of a card, but it's still worth the mentioning for the die-hard collectors like myself.
Mitsuhiro Arita autographed
Recently the CP6 set has been released as 1st edition in Japanese which consists of artworks from the original Base Set. This set also featured the Base Pikachu artwork. This set has been released as CP6 in Japanse 1st edition and Korean, and as XY Evolutions in English, German, French, Italian and Spanish (and the Russian and Portuguese releases are cancelled for this set). This means seventeen more cards have been added to the list (the Japanese 1st edition and Korean; five Theme Deck special release; five Reverse Holos; and five regular non-Holos). (Apparently they've simply reprinted the Japanese cards with 1st edition symbol, because they were too lazy to remove the 1st edition symbol.
So I doubt the unlimited edition Japanese CP6 set will be released.
So the unlimited edition Japanese CP6 has never been released.)
Another interesting thing to note, is that the Pikachus in the artwork of the CP6 / XY Evolutions cards are slightly lower than on the original Base set artwork.
Japanese CP6 1st edition:
Korean CP6:
English XY Evolutions Theme Deck (Shattered Foil):
For the XY Evolutions set there are also two Theme Deck releases, one with the Pikachu you see right here, and one with Mewtwo. Both have a Shattered Glass kind of holofoil pattern. The Theme Deck Shattered Holofoil, Reverse Holo and non-Holo Pikachus combined make for a total of fifteen additional Base Artwork Pikachus with the release of XY Evolutions.
Below pictures can be found of all the other ones, which includes the languages English, German, French, Italian and Spanish.
German XY Evolutions Theme Deck (Shattered Foil):

French XY Evolutions Theme Deck (Shattered Foil):
Italian XY Evolutions Theme Deck (Shattered Foil):
Spanish XY Evolutions Theme Deck (Shattered Foil):
English XY Evolutions Reverse Holo:
German XY Evolutions Reverse Holo:
French XY Evolutions Reverse Holo:
Italian XY Evolutions Reverse Holo:
Spanish XY Evolutions Reverse Holo:
English XY Evolutions:
German XY Evolutions:
French XY Evolutions:
Italian XY Evolutions:
Spanish XY Evolutions:
Sun-discolored Albino misprint Jumbo: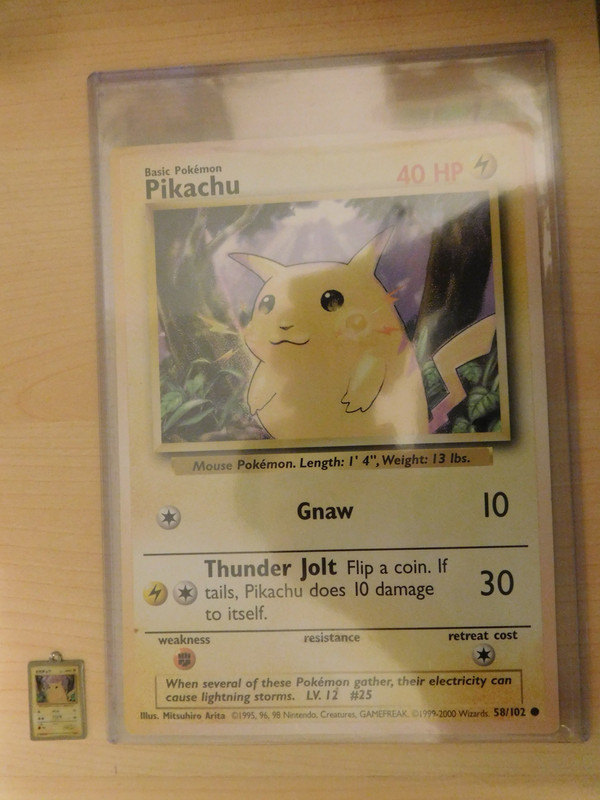 Just like the regular sized Pokémon TCG cards, the Jumbo cards can get sun-discolored as well. The card above is a partially Albino Jumbo Pikachu.
Japanese 10th Anniversary Miniature Phone Charm Promo:


This hard plastic miniature card is exactly the same as a Japanese Base Pikachu (with Rarity symbol). The only difference: it's just 27.0 by 19.5 mm. This official card was released together with a Japanese 1st edition EX FireRed & LeafGreen Charizard EX miniature as part of the 10th Anniversary of the Pokémon TCG:
French Jumbo Base Pikachu from a Belgium tournament:

Although it looks kinda fake, this French Jumbo Base Pikachu was given at a Belgium tournament back in the day. This card is in possession of
linkdu83
, who might have some better pictures and more information about these?
There was also
another Jumbo card from that same tournament which is similar as the French insert
used with some WotC era promos (i.e. the Legendary Birds for example).
Teach Set 2000 Pikachu:
In 2000 a Teach Set was created to help new Japanese players learn the Pokémon TCG. This set contained a total of 10 cards, and one of them had the Base Pikachu artwork:
The size of these cards are 86.5 by 142.5 mm. A regular sized and Jumbo sized TCG card would be 63.0 by 87.0 and 145.5 by 205.5 mm respectively. More information about this and the other Teach Sets can be found in
my Teach Set article
.
Super Jumbo Base Set 2 Pikachu:
In the back of the following picture you can see a Base Pikachu (most likely Base Set 2):
I don't know the measurements yet (will update as soon as I do), but it seems to be at least 500 mm high.
So far seven of these Super Jumbo Cards have popped up (and Pikachu wasn't one of them): Fire Energy; Grass Energy; Charmander; Nidoran; Switch; Potion; Doduo. These seven are in possession of The Charizard Authority / TCA Gaming (
TCA Gaming
). He briefly shows the Fire Energy and Charmander in
this video
.
Super Jumbo Italian 1st edition Base Set Pikachu:
I was able to buy one of the Super Jumbos myself. They aren't the English Base Set 2 mentioned above however, but Italian 1st edition Base Set instead. I've bought the Pikachu, as well as an additional Lightning Energy, which you can see in the picture above. The measurements are: height: 561 mm; width: 399 mm; thickness: 2mm. In the picture above you can see my house shoe below it (shoe size: 43/44 in EU; 9 in AUS/UK; 10 in US). Here an additional picture with a size comparison to a the earlier mentioned Jumbo, Teach Set, regular TCG-sized, and Miniature Phone Charm Pikachus:
The seller also had a few other one available
: 2 Charmeleons; 4 Charmanders; 1 Doduo; 4 Machop; 4 Male Nidoran; 2 Potions; 6 Fighting Energies; 4 Fire Energies; 2 Grass Energies; 1 additional Lightning Energy.
Ultra Jumbo Base Shadowless unlimited edition Yellow Cheeks Pikachu:
In the 'Pokémon Bible' (page 345), this picture can be found. It seems to be approximately 2 meters high. And it's an enlarged version of the Shadowless unlimited edition Yellow Cheeks variant. No idea if it still exists or if it was destroyed shortly after this event.